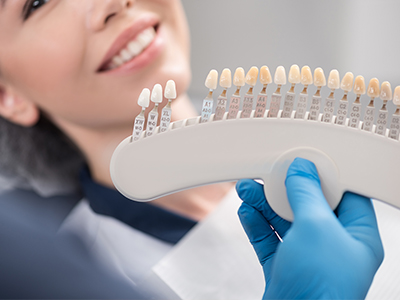 If you have a tooth that is discolored, cracked or you simply don't like the way they look, ask your dentist about veneers. Veneers are synthetic covers for your teeth that are either made from porcelain or resin. This process is typically for people looking to make a cosmetic change with their teeth, or have minor tooth damage.
Porcelain veneers look like real teeth and resist stains better than their resin counterparts. But resin veneers require less healthy parts of a tooth to be removed. Ask your dentist which kind of veneers he or she would recommend for you.
Dental veneers usually require three separate trips to the dentist, but at Your OC Dentist we can do everything in one session. The first part of your appointment will be for measurements and a consultation. Your dentist will talk to you about what you want to change about your teeth and make sure dental veneers are right for you. Your dentist may take x rays or make an impression of your mouth.
The second part will begin your treatment. Your dentist will start by administering anesthesia around your tooth and removing a bit of surface enamel. He or she will then make a model of your teeth, go behind the curtain and come back with your new veneers. This process normally takes a few weeks to complete, forcing patients to use temporary veneers. But at Your OC Dentist, this process takes one afternoon.
This is when the magic happens. Your dentist will examine the veneer, make sure all of the measurements are exact, make some adjustments and make sure it matches the shade of your other teeth. He or she will then roughen up your tooth so that the veneer will stick better. After that, your dentist will apply the veneer with dental cement and clean up the tooth. Voila! Your tooth now looks as good as new!