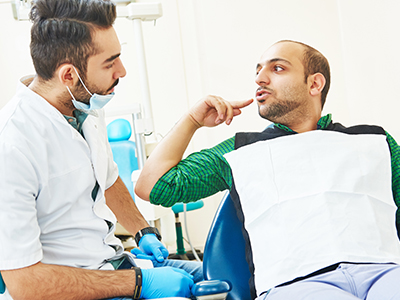 If you have one or two missing teeth, one way to replace them is to get a dental bridge. A dental bridge is the combination of two crowns with a synthetic, replacement tooth (called a pontic) fused in between. This can help patients who may have previously had trouble speaking, chewing or just wanted to enhance their smile. This also prevents surrounding teeth from drifting, helps to evenly distribute pressure in your mouth and maintains the shape of your face.
There are three different kinds of bridges: traditional bridges, cantilever bridges and Maryland bonded brides.
Traditional bridges are the most common type. They require two healthy teeth on either side of the missing tooth with the pontic in between.
Cantilever bridges are used when there are only healthy teeth on one side of the missing tooth or teeth. These bridges have the pontic on one end, with two healthy teeth beside it.
Maryland bridges, also known as resin-bound bridges, use metal to support plastic teeth and gums. Metal wings from the pontic are bound to healthy teeth.
All bridges are custom designed specifically with you in mind and look right at home inside of your mouth. Our dentists ensure that each bridge is as secure and comfortable as humanly possible. With good oral hygiene, dental bridges can last well over a decade.